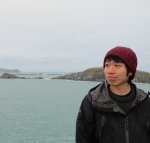 Location: Room 3019, Earth Sciences Centre
Email:
CV
University of Toronto (2015-present)
PhD Student
Department of Ecology and Evolutionary Biology
DEGREES:
MSc, Erasmus Mundus Master Programme in Evolutionary Biology (MEME) (2013-2015)
Uppsala University (September 2013 – January 2014)
Université Montpellier 2 (February 2014 – July 2014)
University of Groningen (September 2014 – August 2015)
BSc, University of Otago (2009-2012)
First Class Honours in Ecology (4 years)
Research Interests
I have broad research interests in ecological and evolutionary aspects of parasitic organisms and host-parasite interactions, which I explore using theoretical modelling, meta-analyses and experiments. My recent research topics include: parasite sociality; evolution of MHC diversity; patterns and mechanisms of parasite biodiversity; virulence evolution; and evolution of immune regulatory systems. For my PhD in the Mideo Group, I'm hoping to understand the evolution of parasite plasticity and its clinical and epidemiological consequences. Please visit my website for more details.
Publications
Please visit my Google Scholar Citations page.